What's in this article?
No matter what industry you work in, you're going to need the help of marketing experts who can help grow your company's presence online.
For example:
Law firms may be in need of an agency that can build them a website, and a content strategy to generate new case leads.
eCommerce companies may need experts in PPC ads and brand awareness campaigns to sell more products online.
Mortgage lenders may need a content marketing strategy to write blogs and lead magnets that attract tons of visitors and create qualified leads for their sales departments.
It's the digital marketing agency's responsibility to research and understand their client's audience and the competitive space, and then create a marketing strategy that will reach all of the campaign's goals.
Luckily, there's no shortage of digital marketing agencies out there that can offer basic digital marketing services.
However, it's a double-edged sword — because there are so many agencies to choose from, it can be hard finding the best digital marketing agencies to work with.
In this post, I'll offer considerations and a list of the best digital marketing agencies to help you find your next digital marketing partner for your next project.
What do the top digital marketing agencies all have in common?
Often the first test a digital marketing agency needs to pass is its own ability to sell itself to its client.
Marketing is, after all, the ability to understand an audience and successfully sell to them.
However, sometimes marketing agencies are too good at selling themselves, and actually fall short when it comes time to deliver results.
Picking the best digital marketing agency can be tough — you want to work with people who can deliver results, but who are also pleasant to interact with and can treat you fairly, and offer outstanding customer service.
Here are some of the qualities I believe that make a digital marketing agency "the best" both in terms of delivering measurable results, and in terms of a working relationship:
Transparency and trust, especially when it comes to monthly reporting
An established history
A positive reputation
Awards or positive reviews and testimonials
Concrete deliverable results
A good work culture with happy employees
Competency and ongoing training
How to choose the best digital marketing agency for your needs
Most, if not all, of the agencies on our "best agencies" list are full-service digital marketing agencies.
This means they likely offer just about every service you'll possibly need for your next digital marketing campaign.
Services could include:
Website building
Branding
Content production
Online paid ads
Lead generation
Etc.
But just because a company labels itself as "full-service" doesn't necessarily mean all of its services are of the same quality.
Some companies may offer more services they're not fully equipped to handle, in hopes of becoming a "one-stop-shop" that can attract larger clients.
I recommend you find an agency that specializes in the particular services you're the most interested in. This means, that if you really want a great website, then choose a marketing agency that has an extensive portfolio of beautiful websites.
If you're looking for lead generation, find an agency that understands your industry and has a proven record of delivering qualified, high-quality leads.
If SEO is your main objective, find an agency that has clients with websites and keywords ranking on the first page of Google.
Some marketing agencies also have content studios, employing a team of content strategists, writers, and editors who can produce high-quality blogs for websites.
You'll need to weigh all of these considerations before picking the digital marketing agency for your company's specific goals and objectives.
10 questions to ask a digital marketing agency
Depending on the desired outcome of your next digital marketing campaign, here is a list of questions to ask a digital marketing agency before you hire them:
How long have you been in business?
What are the qualifications or certifications of your team?
How familiar are you with our specific industry?
Do you have case studies or previous clients?
Can you refer me to past clients?
When will I see the results?
How many of your clients' keywords or websites are on the first page of Google's SERP?
How often will we receive reports on our campaign's performance?
What are your company's values?
How soon can you start on our project?
Should you choose a large marketing agency or a small marketing agency?
What's the best choice for your company's needs — working with a large agency or a small-to-mid-sized agency?
Each option has its pros and cons. Let's compare working with a large-scale agency versus a small-scale agency.
Working with large-scale digital marketing agencies
On one hand, large-scale agencies have more employees, more resources, and can attract experienced professionals with competitive salaries. Many of them are located in downtown sections of major cities and can have a sense of prestige and history around them.
However, large agencies can also suffer from bad organizational bureaucracy, moving too slowly, a lack of transparency, higher prices, and sometimes treating smaller clients as being "less important" than their high-profile clients.
Remember how I mentioned many of these agencies have fancy high-rise offices? Well, as the client, you're paying their rent. Keep that in mind when looking at the higher prices.
Working with small to mid-sized marketing agencies
Smaller-scale marketing agencies generally have much fewer employees than a large agency, meaning employees can sometimes have too many responsibilities or wear too many hats.
Also, it can be more common to see more entry-level employees working for a small-scale agency, although many large agencies also hire entry-level employees.
However, the benefits of working with a small agency are nimbleness — small agencies have a much faster turnaround time to complete projects, as there's less red tape and middlemen to slow things down. Their departments and offices are smaller, so it's easier for the entire team to collaborate and communicate with each other on projects.
Also, small agencies will generally offer better prices, as their offices aren't located in expensive high-rise offices located in major cities, so their overhead is cheaper, and can extend these savings to the client.
When you work with a small agency, you may find that the levels of customer service are better, because you're not being treated as "just another client" or as a "lesser important" client that you may be treated as when working with a major digital marketing agency.
Check out these 7 best digital marketing agencies in 2022
A digital marketing agency doesn't need to be a local company to provide outstanding results and customer service. Below is a compiled list of the best marketing agencies located throughout the United States offering a full range of marketing services.
1. Kaleidico
Kaleidico is a Michigan-based digital marketing company offering a full range of digital marketing strategies and services.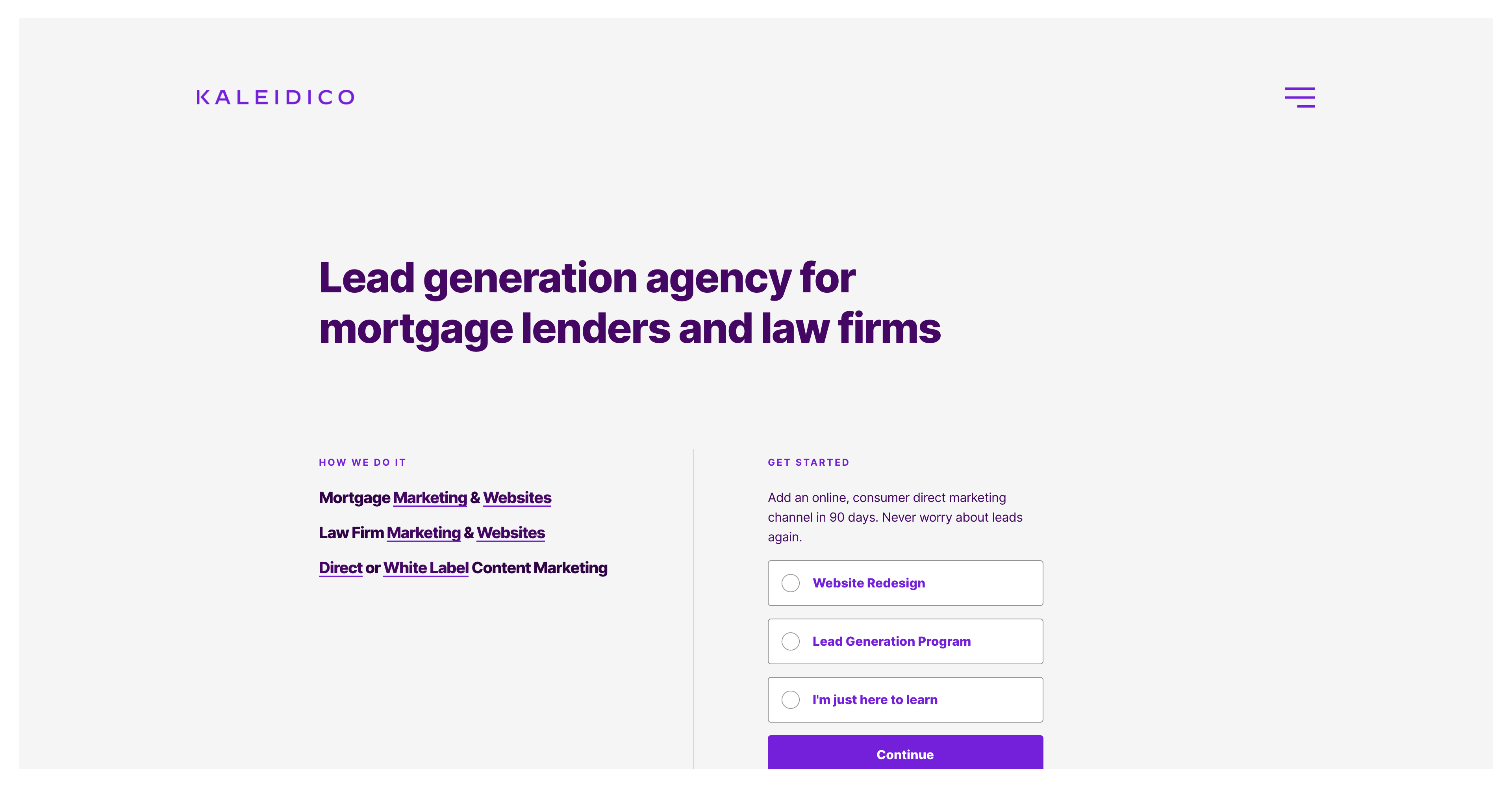 Our primary focus has been lead generation services for law firms, mortgage lenders, financial tech companies, as well as healthcare providers.
To achieve our lead generation focus, we employ a diverse team of specialists — web designers and developers, graphic designers, content strategists, content writers, editors, email and social media marketers, account managers, PPC specialists, and an account management team trained in SEO.
At Kaleidico, our primary offerings to clients include:
2. WebFX
If you're seeking a large, full-scale marketing agency, look no further than WebFX.
Located in Harrisburg, Pennsylvania, WebFX has regional hubs located in Florida, Pennsylvania, and several satellite locations throughout the United States to assist local businesses.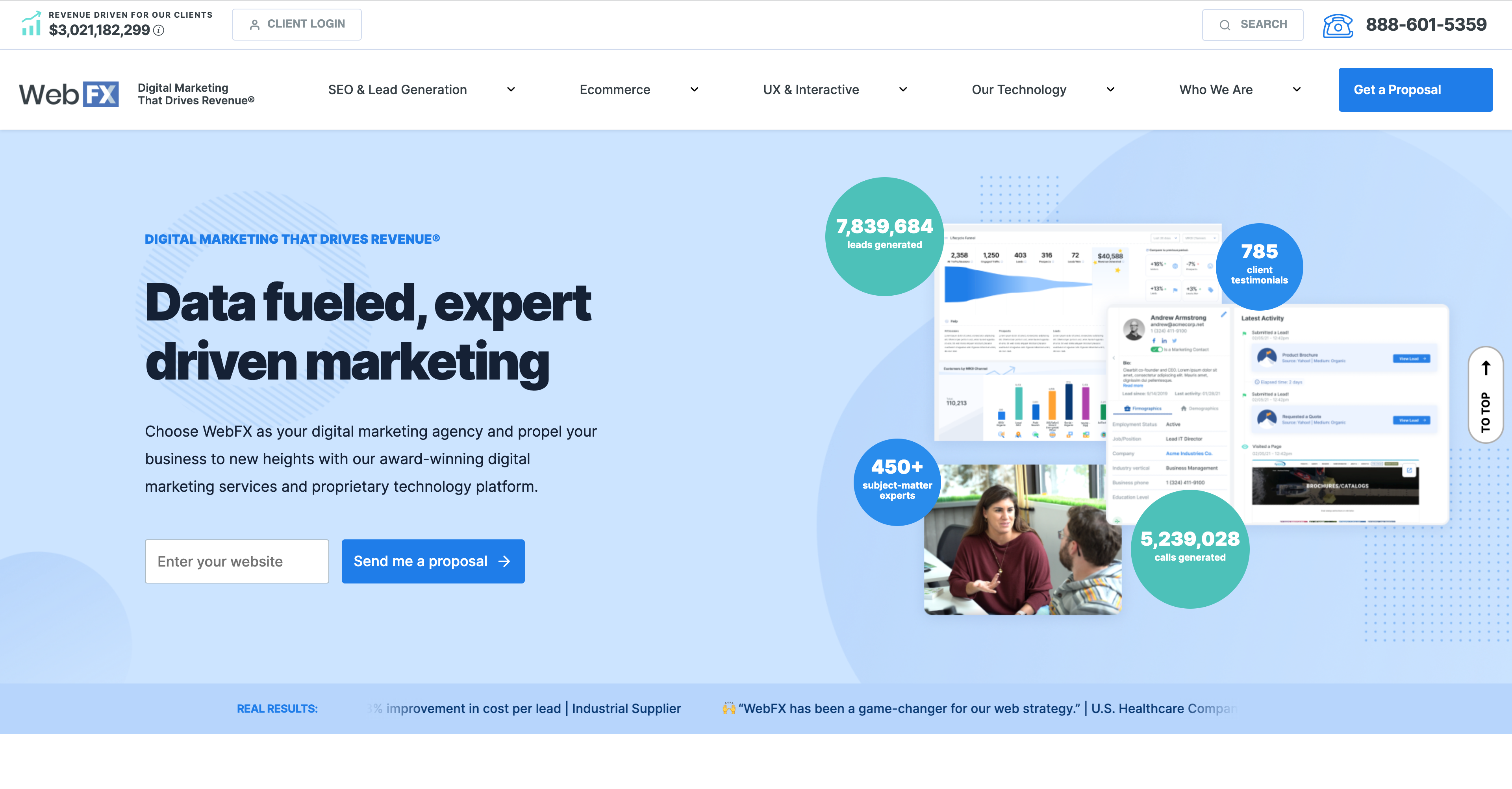 WebFX's monthly traffic has over a staggering 1.1 million visits, which is very, very impressive.
WebFX, being a full-scale agency, does it all — website design, web development, PPC, SEO, lead generation, social media services, content marketing services, and has partnerships with Amazon, Google, and Facebook.
Looking at their website, it doesn't seem there's any kind of digital marketing service they don't offer.
They're not only a great marketing company, but a great employer voted as the "Best Place to Work in PA" for 7 consecutive years. Happy employees also mean happier working relationships with their clients as well.
3. Thrive Internet Marketing Agency
Thrive Internet Marketing Agency (formerly known as MLB Web Design) is a full-service digital marketing agency located in Texas. Like WebFX, they also have several locations throughout the United States.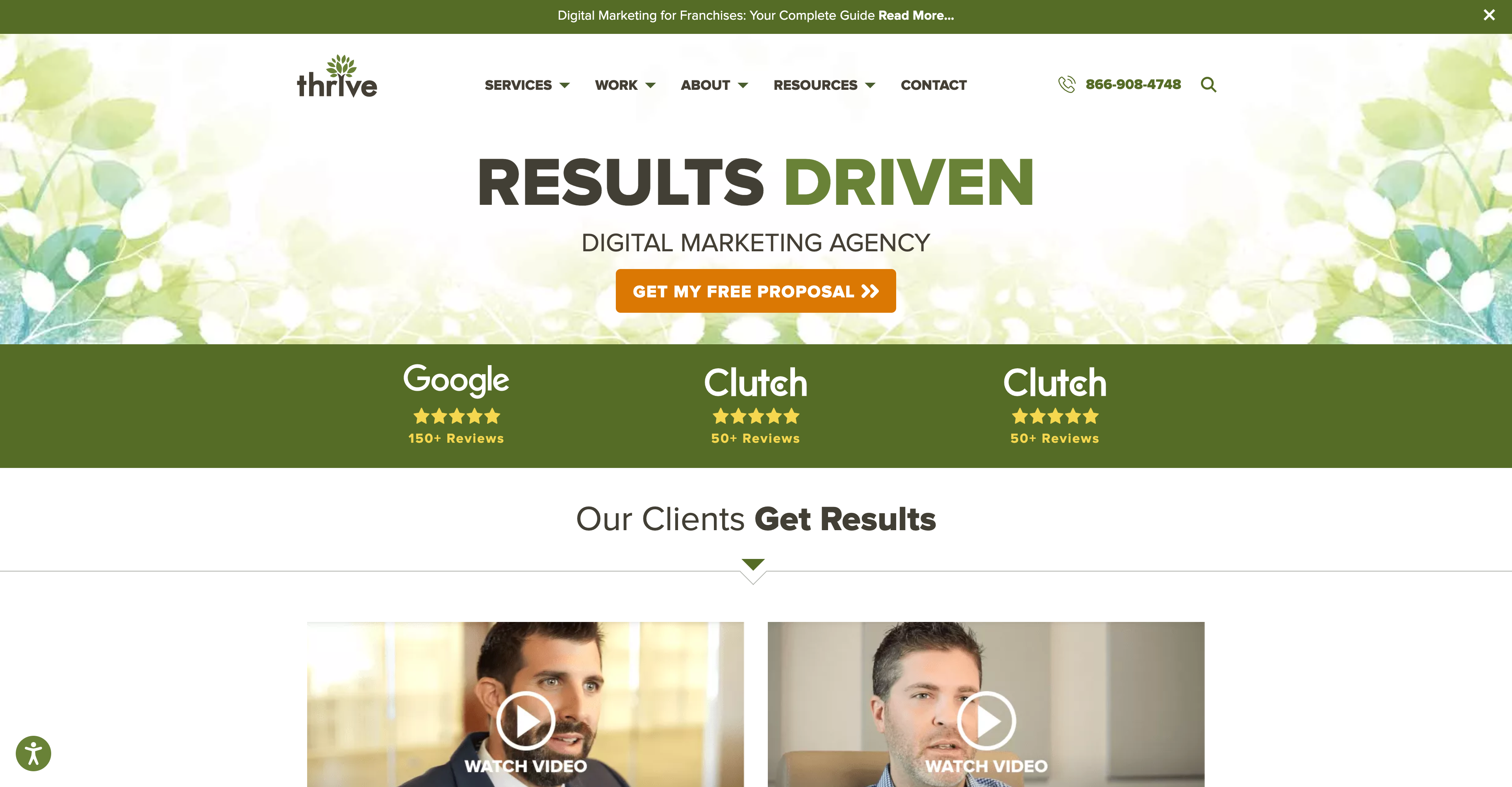 Their specialties are web design, SEO, social media management, PPC, email marketing, blog content writing, and web hosting services. They serve both small and large businesses.
Thrive places an emphasis on web design, and standard digital marketing areas, but also specializes particularly in the eCommerce space, offering Amazon, Walmart, and general eCommerce marketing help.
Another unique offering is their reputation management service, which helps to reduce negative PR attention by producing positive content pieces for companies concerned about their online reputation.
4. SocialSEO
SocialSEO is a digital marketing agency that specializes in search engine optimization (SEO).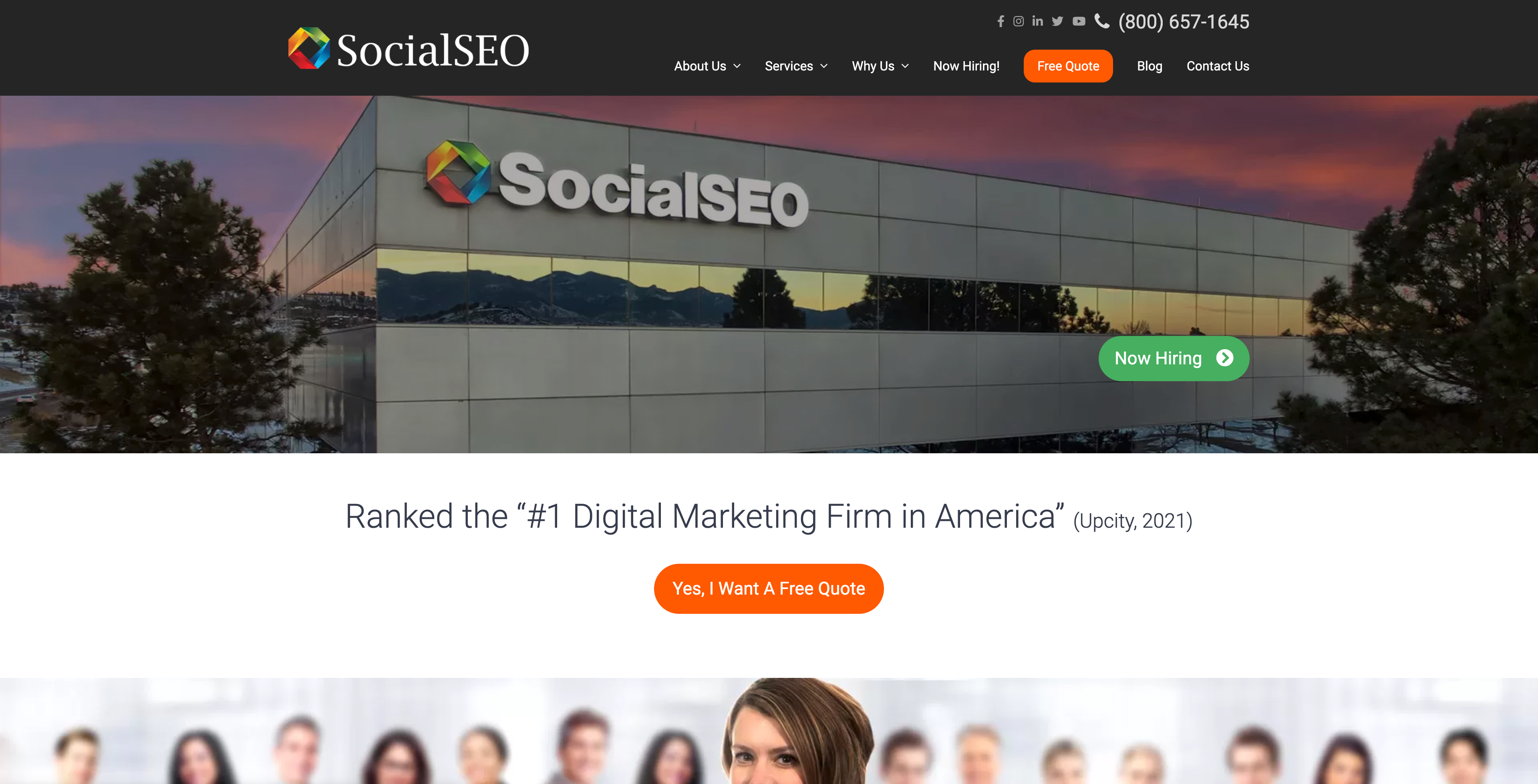 While they are considered a full-service marketing agency that offers many services including social media management, email marketing, graphic design, PPC ads, and Amazon digital marketing, SEO is their primary focus.
Many small businesses work with SocialSEO to improve their local SEO — getting their business on Google Maps, and improving local search results.
In addition, SocialSEO helps eCommerce companies and larger companies improve their national SEO, which focuses on more competitive keywords for national exposure.
Unlike some other agencies, SocialSEO also has its own video production studio to offer full video production services.
5. KARMA jack
KARMA jack is a relatively new player in the digital marketing space and is already making huge waves in our home state of Michigan.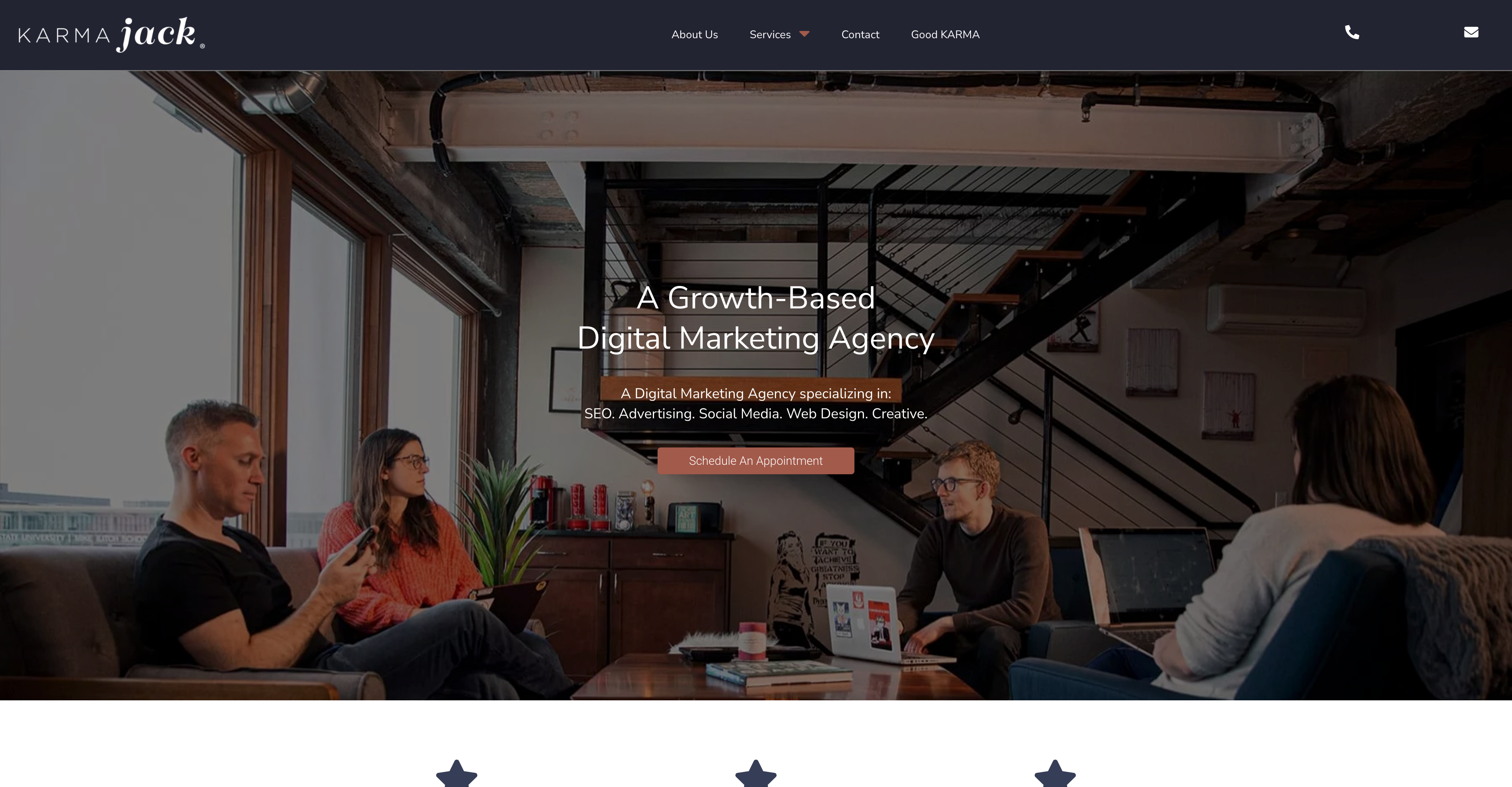 Located in downtown Detroit, KARMA jack labels itself a "growth-based digital marketing agency."
KARMA jack offers full website design, web development, SEO services, email marketing, PPC ads for Google and Facebook, social media management, branding, and consulting.
They pride themselves on their Midwestern work ethic while having the "output of a fancy LA agency."
6. Mabbly
Mabbly (Modern Agency Borne By Loving You) started out as a mom-and-pop SEO firm and turned into a major full-service digital marketing agency out of Chicago.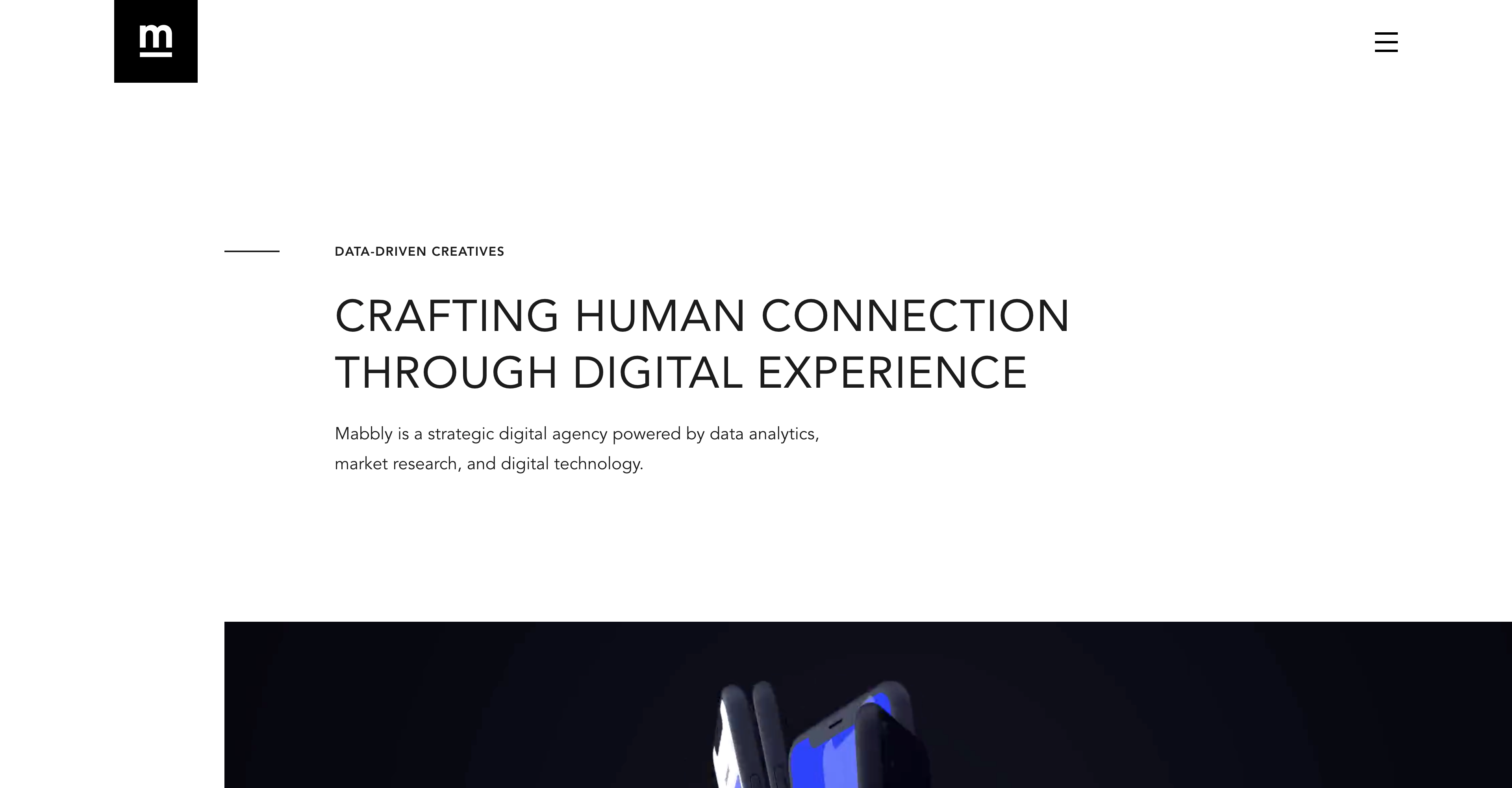 They specialize in web design, brand strategy, growth strategy, PPC, video production, social media management, app development, content strategy, lead generation, and data-driven creatives.
Unlike other large-scale agencies on this list, Mabbly is only located in Chicago, but has worked with many high-profile clients, such as Microsoft, 21st Century Fox, and the University of Chicago.
From my research, it seems that Mabbly prefers to work with larger companies, so if you're a small to mid-size company, Mabbly might not be for you.
7. Comrade Digital Marketing Agency
Simply referred to as "Comrade," this digital marketing agency has an established history in Chicago with satellite locations in Miami, Los Angeles, and Austin to serve more of the nation.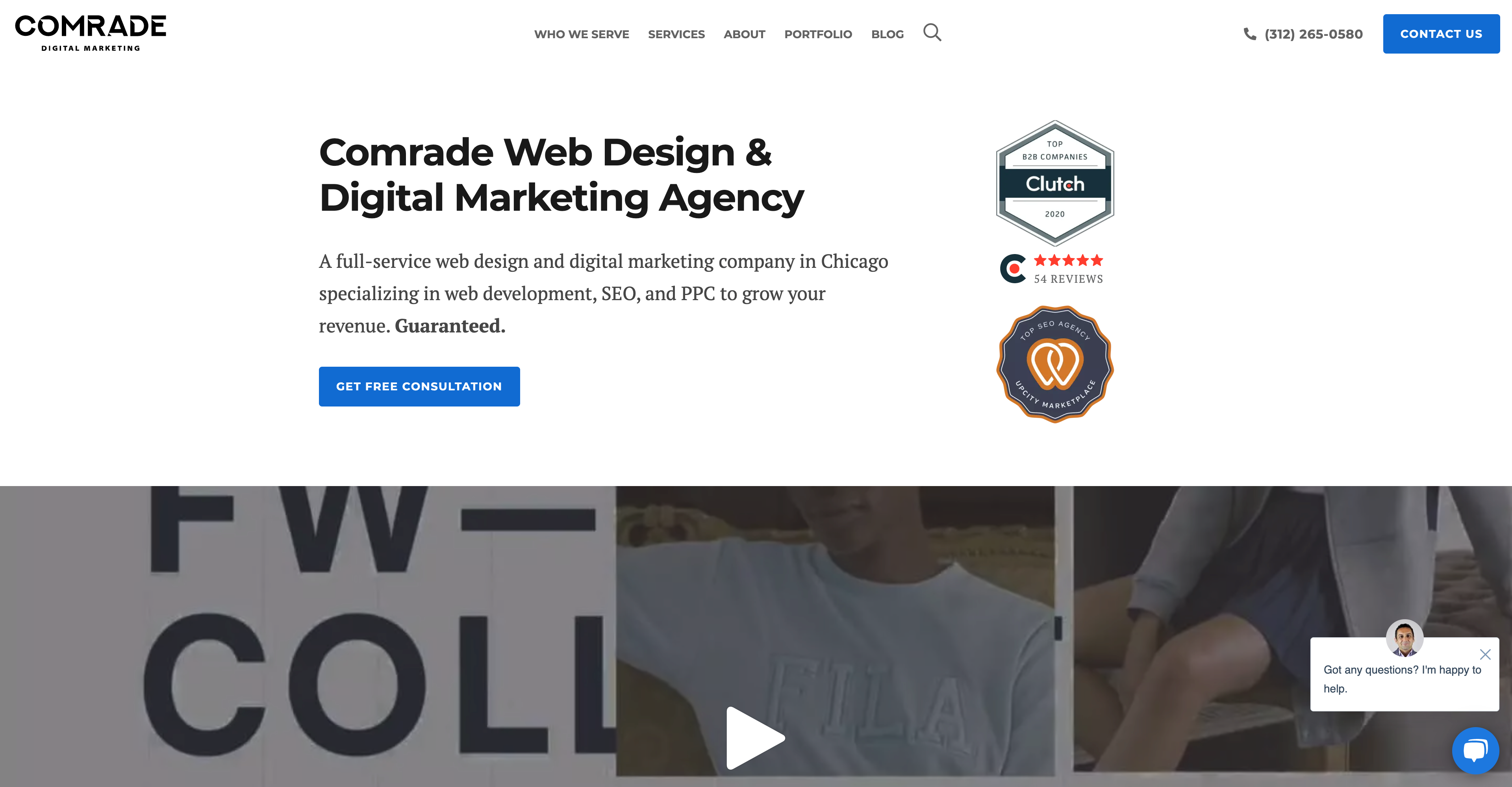 Comrade labels itself a full-service inbound marketing, SEO, and web design agency.
One of Comrade's strengths is being able to work well with small to mid-sized business clients. This is a complaint we hear all the time about smaller companies working with big agencies — big agencies make the small companies feel like a small company, and don't offer the same levels of service.
Luckily, the people at Comrade extend their great customer service to all levels of clientele, both large and small businesses.
If you're looking for a full-scale agency with a Midwestern work ethic and a professional, friendly attitude, then look to Comrade.
Kaleidico: the best digital marketing agency for law firms, mortgage lenders, and fintech companies
Kaleidico is a lead generation agency primarily focused on helping law firms, mortgage lenders, and fintech companies build outstanding websites that generate serious leads.
We've been generating leads in the mortgage space since 2005, both in good and bad markets.
In addition, we've branched out to extend our services both to law firms, lawyers, and fintech companies looking to optimize their online web presence.
We'd love to work with you and your company.
We invite you to schedule a Discovery session to learn more about us, our qualifications, and to discuss your company's key marketing objectives.