What's in this article?
In 2022, people will turn to the internet first to research mortgages, loans, and loan products before they ever pick up a phone to call their bank or a standard mortgage lender.
Sure, they may ask a friend or parent "who do you get your mortgage from?" but odds are, they're still going to do their own independent research to help them narrow down mortgage lenders.
When these prospective borrowers turn to Google, will they be able to find your mortgage website?
If you're a loan officer starting out on your own and need a website, or have been tasked by your company to find a marketing agency to create a new website — I'm here to help.
I've compiled a list of the best mortgage marketing agencies that not only can create an attractive, functional mortgage website but can also put in the hard work to generate highly qualified leads.
What does mortgage marketing mean for mortgage lenders?
Mortgage companies learned a long time ago that it's in their best interest to fully educate their audience on how to get a mortgage — because if lenders can teach borrowers about the mortgage process, borrowers will trust the company and want to work with them to get their mortgage.
In the past, this meant creating free brochures and pamphlets about mortgages that were made accessible in the office. The problem was that people had to step into the office first to get this information!
But with the internet and the rise of digital marketing, people turn to Google to access free and helpful content.
These prospective clients will search Google with queries such as:
"How to get a mortgage"
"Is it hard to get a mortgage?"
"How to get approved for a mortgage"
"What's the difference between an FHA loan and a conventional loan?"
"How to refinance my home"
When borrowers search for these terms, almost every search result they'll come across has been written by a mortgage lending company, or a mortgage lead generation aggregator.
Why? Because mortgages are confusing! And who else is a better expert on mortgages than mortgage lenders?
Mortgage marketing, then, is about creating helpful content to educate the borrower about every aspect that goes into getting a mortgage — how to apply, what the credit requirements are, what the steps are, frequently asked questions, etc.
When mortgage websites provide helpful answers, they are rewarded with new traffic and new leads.
Looking for some quick mortgage marketing ideas? We've created a list of 50+ ideas here.
How do mortgage loan officers (MLO) get new leads?
There are really only two options to get new mortgage leads — generate them yourself with your custom mortgage website or buy them from a lead aggregator company, such as NerdWallet or LendingTree.
Each option has its pros and cons, including the following:
Buying new mortgage leads can be immediate, but also very expensive, and the leads may or may not be qualified. Qualified leads can range from $20 to $100 per lead!
After you've finished buying leads, there are no more new leads coming in. You'll constantly have to purchase more.
Generating your own leads will have a slower start, as it takes time to build traffic to a website.
However, after you've set up a mortgage lead generation website and strategy, the momentum and SEO boost can continue to attract more visitors and leads to your website for years to come.
For the purpose of this article, we're going to talk about how mortgage lenders can take charge of their own digital presence to build a complete lead generation machine — from a custom new website to content marketing and lead generation tactics.
If you want to continue buying leads for your mortgage company, I don't blame you.
But I suggest you augment your bought leads with a lead generation strategy that will generate your own mortgage leads.
To do that, you're going to need to hire an experienced mortgage marketing agency to help build your new website and content marketing strategy.
How to choose the best mortgage marketing agency
There are a ton of marketing agencies out there, and if you asked them "can you help my mortgage company generate more leads?" they'll certainly tell you yes.
It's in every marketing agency's best interest to tell a prospective client "yes," but that's simply not good enough.
You need to find an agency that has real experience in the financial and mortgage industry — a company that employs former mortgage lenders with sales experience who actually have first-hand experience selling mortgages and loan products.
You'll want an experienced agency that can spot trends and see repeatable patterns to stay ahead of the curve and competition.
Most marketing agencies can create a simple and attractive enough website and put contact forms on it, but what you need is a history of proven success.
Considerations and questions to help you choose the best mortgage marketing agency, include:
How long has this agency worked with mortgage companies?
Do they have any case studies they can share?
Do they have clients who appear on Google's first page of results?
What search terms are their clients ranking for?
Do they have other employees on staff? Such as designers, writers, and editors?
Will they be able to create a content strategy and perform SEO research, or will you need to hire another agency?
Go with your gut and really examine the company to see if you want to work with them.
Talk to them and their employees and get a feel for the work culture and employee attitudes.
Just like a hiring manager interviews a new employee, you'll need to interview new agencies to find "the right match."
The top 6 best mortgage marketing agencies to hire in 2022
As I mentioned before, there are numerous digital marketing agencies out there, but there are really only a handful of mortgage marketing agencies with the proper qualifications to help lenders generate more leads.
Below is a compiled list of the 6 best mortgage marketing agencies working with lenders to build websites, market those websites, and generate new leads.
1. Kaleidico
Kaleidico is a lead generation agency helping mortgage lenders, law firms, and fintech companies build great websites that generate qualified leads.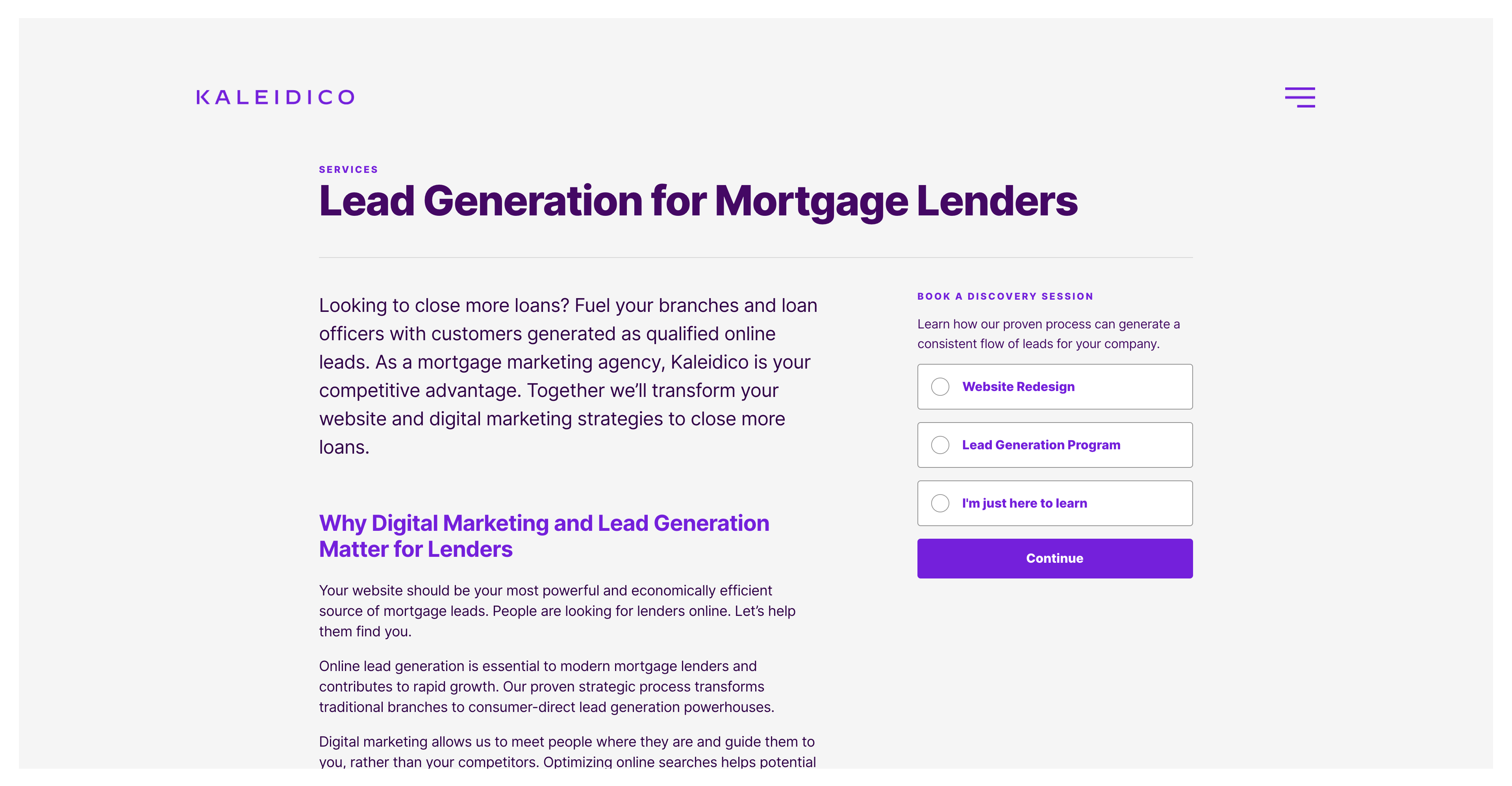 Our founder and President, Bill Rice, has over 20+ years of experience designing and building consumer-direct banking, money lending platforms, and online loan origination websites, including the first 100% truly online origination platform DeepGreen Bank.
He was also the lead architect and executive for Quicken Loan's equityonline.com.
Kaleidico is a full-service marketing agency that employs content strategists, website designers and developers, graphic designers, content writers, editors, and a team of account managers.
Lenders and others in the mortgage business come to us to get the full package — a custom-designed website and lead generation system.
To support lead generation for lenders, our team implements a content marketing strategy to identify the target audience, study the competitors, and then produce outstanding blog content from our content creation studio.
Looking to close more loans and get more leads?
Reach out to us to schedule a Discovery session so we can learn more about your business.
Ask us about our new "instant sites" that we can have launched in a month!
2. leadPops
leadPops is a marketing company for mortgage lenders, real estate, and insurance companies.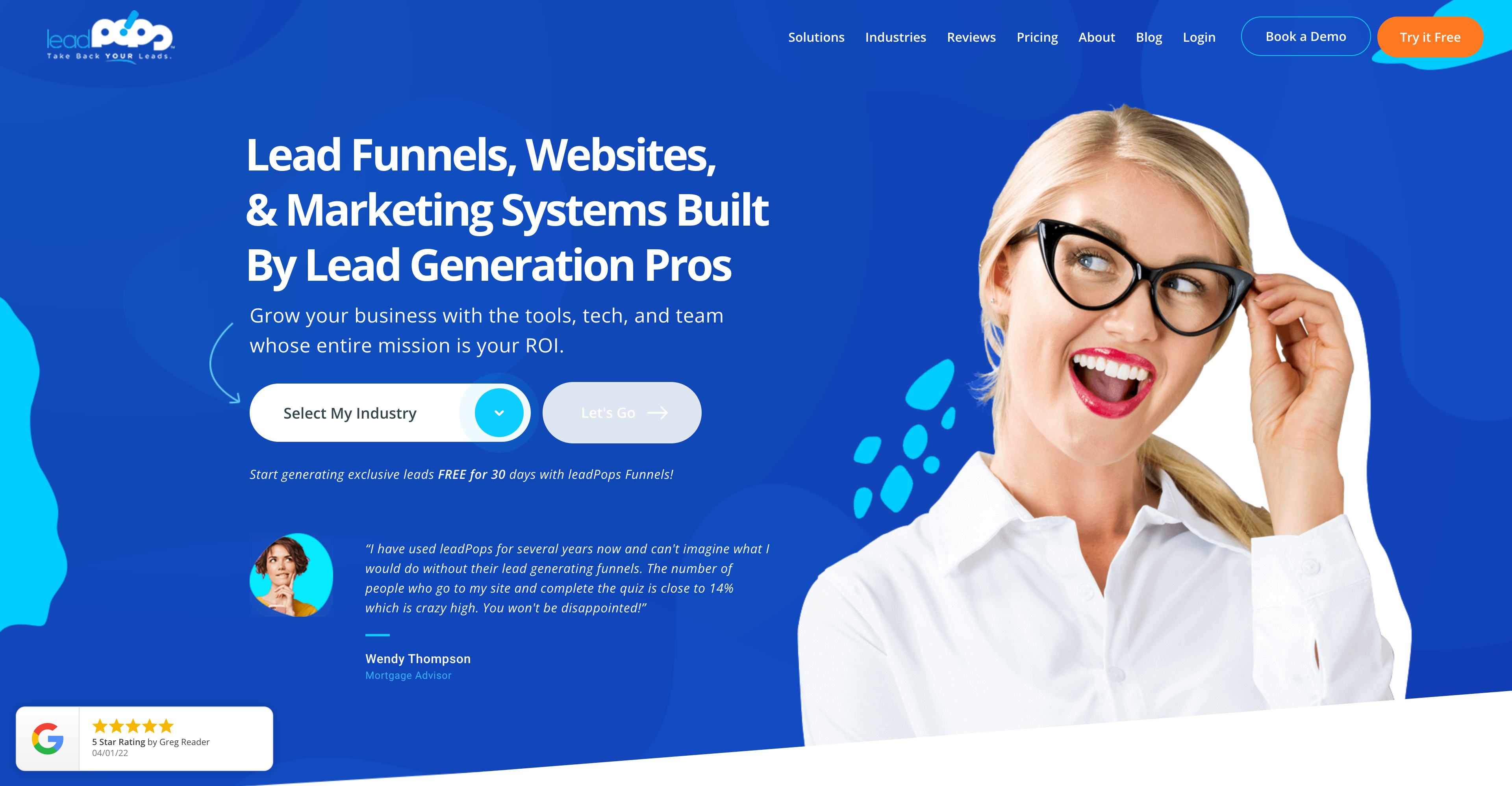 They excel in building lead funnels, custom websites, and marketing systems to generate highly-qualified leads.
Founded in 2011 and located in San Diego, leadPops has a team of over 60+ team members and over 3000 customers.
leadPops prides itself on being one of the easiest ways for mortgage lenders to generate their own leads — and not buy them.
They offer easy mortgage website themes so lenders can build a website right away that can be optimized to generate exclusive mortgage leads.
They also have an impressive perfect 5.0 star Google Business review score with over 706 reviews.
3. Top of Mind / Black Knight, Inc.
Top of Mind created the Surefire CRM platform, which has been a very popular marketing solution for lenders and the rest of the mortgage business.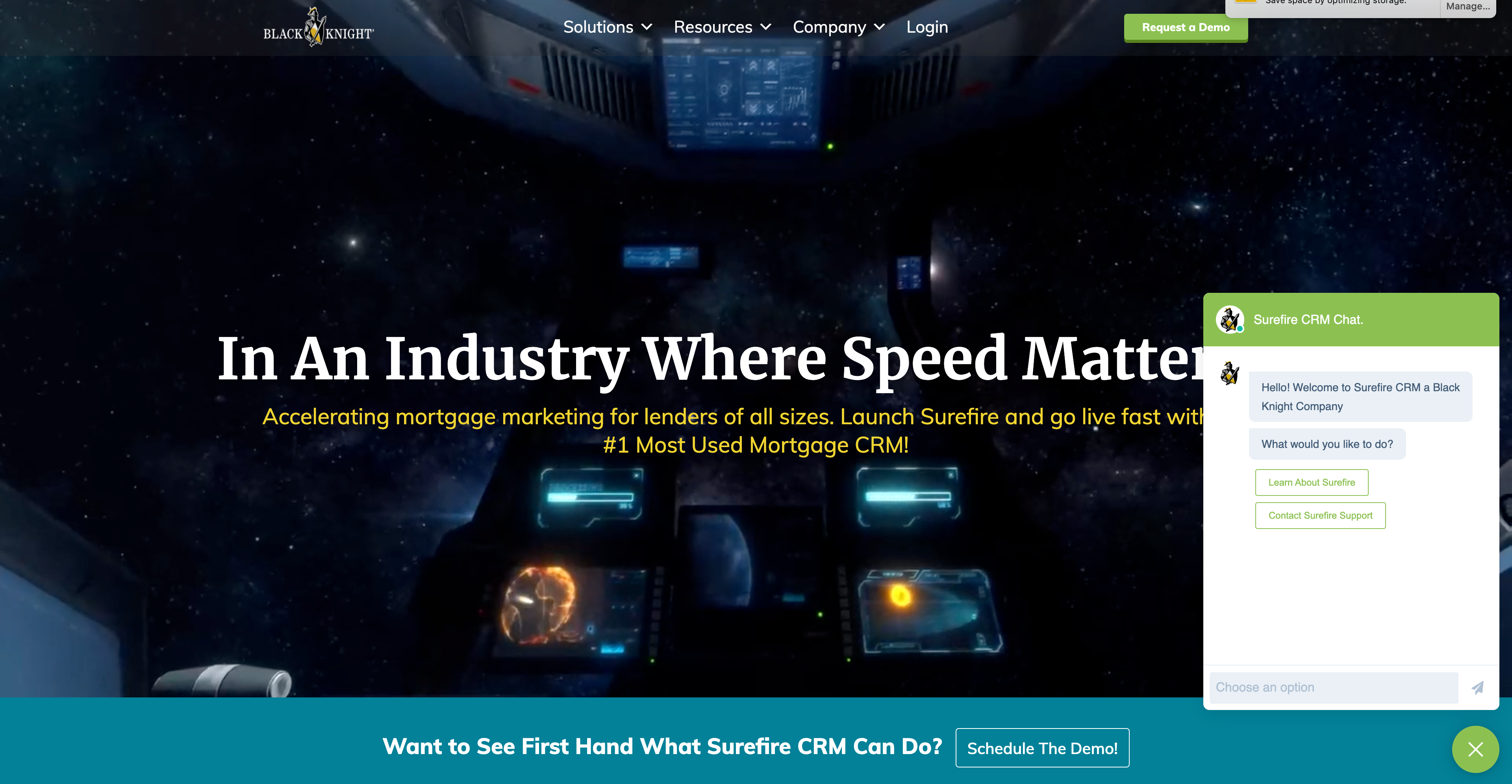 Recently, Top of Mind was acquired by Black Knight, Inc., a technology company that provides services, software, and analytics for the mortgage and real estate industries.
While Top of Mind / Black Knight isn't exactly a "mortgage marketing agency" per se, their Surefire CRM software contains powerful mortgage marketing solutions and features used by many lenders, such as its ability to build automated lead funnels.
In addition to its powerful CRM platform, Top of Mind also offers "professional services" including:
Data management
Temporary staffing for marketing and administrative tasks
Training for new loan officers
Brand management
4. Vonk Digital Mortgage Websites
Vonk Digital has one focus, and that's mortgage websites.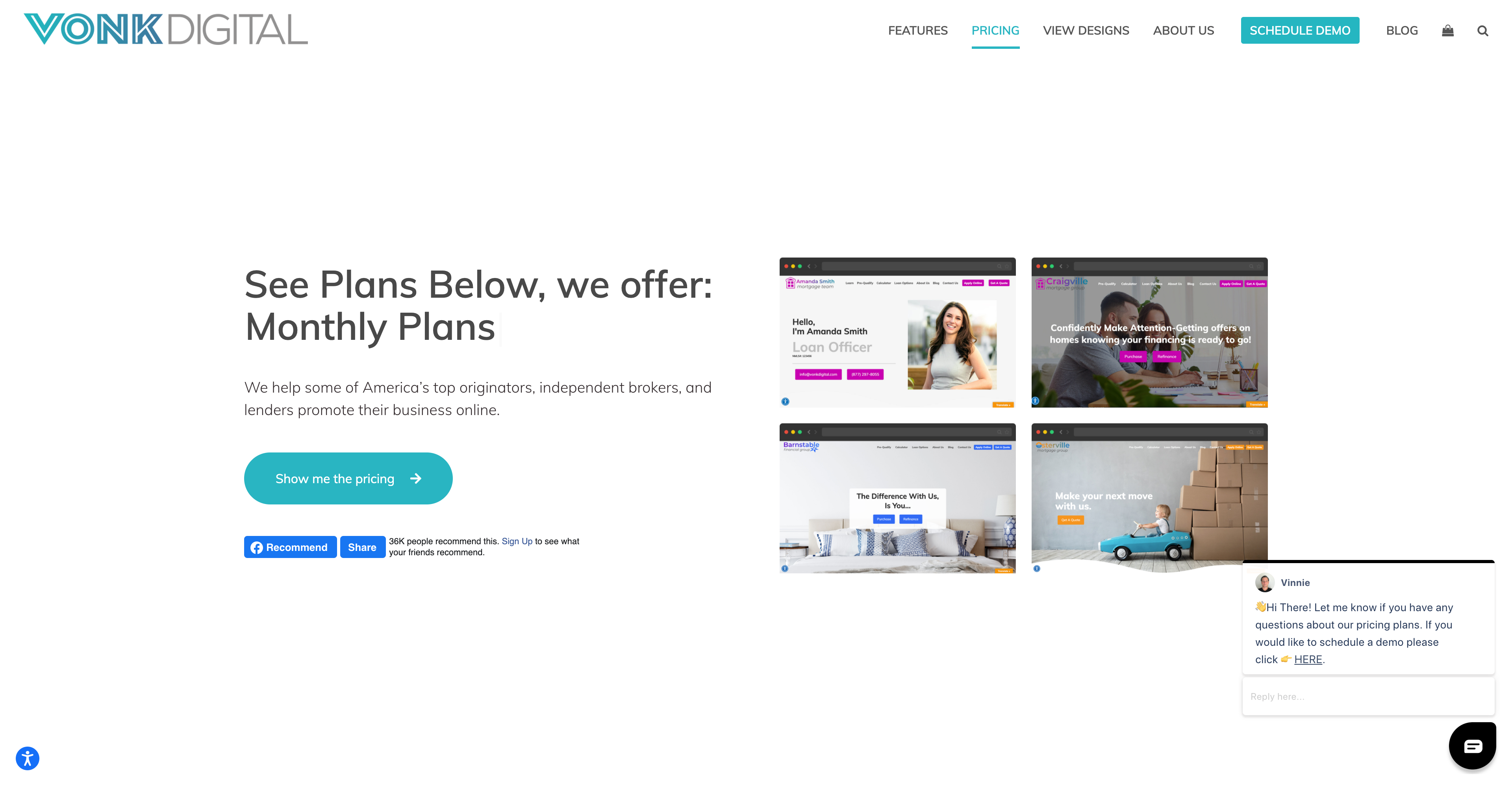 Unlike others on this list that split their focus between two or three industries or offer a full range of services, Vonk Digital knows its niche and its audience — mortgage lenders and firms that need websites.
Vonk offers monthly and annual plans to host and build completely customizable websites for mortgage officers, which can include blog writing services.
In no time, you can have a turnkey mortgage website optimized with lead paths and forms that will begin generating new mortgage leads.
They also pride themselves on having "real mortgage experience," being founded by brothers with previous experience starting a small mortgage brokerage.
Oh yeah, and "Vonk" means "spark" in Dutch, in case you were wondering.
5. LenderHomePage
LenderHomePage is an all-in-one cloud-based mortgage platform used to build custom mortgage websites, build mortgage apps, as well as offer a point-of-sale (POS) platform called LOANZIFY.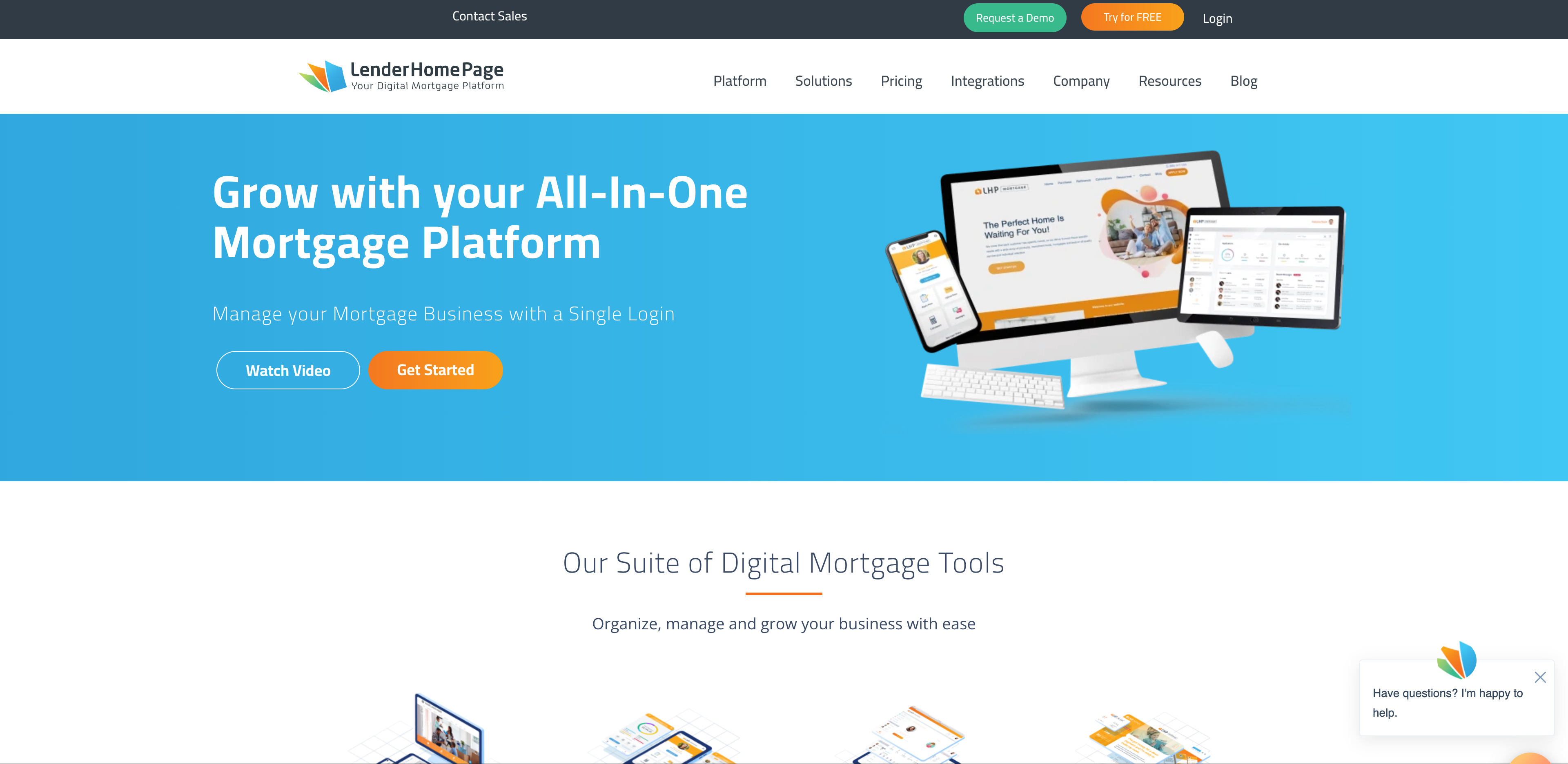 In addition to these platforms, they offer monthly digital marketing services such as SEO, social media management, and custom creative content production to attract more traffic to their clients' websites.
They also offer several mortgage website templates that have all the tools and features a mortgage website should have:
Responsive designs
Mortgage calculators
Landing page builders
Testimonials
Tons of integrations
Document uploader
Rate tables
Local SEO services
etc.
6. Etrafficers
Etrafficers is a website builder and lead generation agency supporting mortgage companies, loan officers, and loan originators.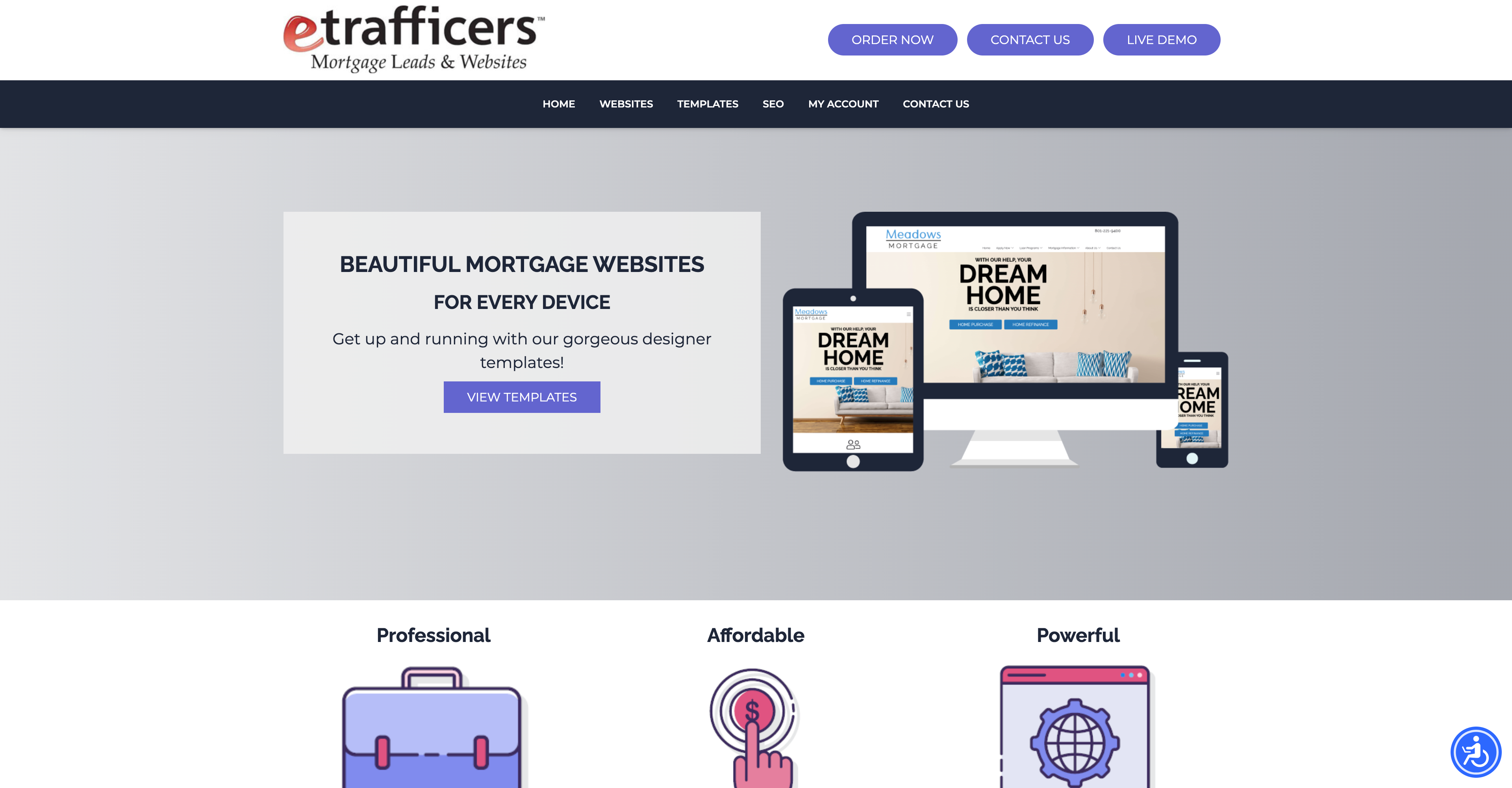 They have over 15 different design templates and can quickly create a turnkey website that has several design features and elements, including:
Build-in loan application tools to submit documents securely
Pre-designed logos
Dynamic page editor
Free technical support
Website stats
Calculators
Options to create individual loan officer websites
Etrafficers also offers professional blog post writing and two different levels of local SEO monthly plans.
Kaleidico — the best mortgage marketing agency since 2005
What more is there to say?
Not many other companies can claim to have been involved in building the first truly digital online loan origination service, but we can.
Kaleidico has been building and generating leads for mortgage lenders since 2005, not that long after Google started introducing Google Ads.
We've generated leads for mortgage companies during mortgage booms and busts, and we can help you too.
Schedule a Discovery session to learn more about us and make sure to download our free 90-Day Mortgage Marketing Plan.