What's in this article?
Most law offices don't have a marketing department.
This means that important marketing tasks, such as blog writing, SEO, and PPC, aren't getting the attention they require. Maybe they're not getting done at all.
As a lawyer, you don't have enough time in your day to focus on these additional marketing tasks, which is why you're looking for the best law firm marketing agency to handle these services for you.
Just like your clients hire you to handle their legal problems, so too, should you hire a marketing agency that understands the competitive online marketing space to meet your goals.
And what problems do law firms want to solve? How to find new clients, get referrals, drive traffic to their website, improve Google ranking, and get more phone calls.
This year, instead of continuing all the law firm marketing yourself, consider hiring the best law firm marketing agency that can handle every aspect of your law firm marketing strategy.
Then sit back and watch your monthly traffic and lead count continue to grow.
How can a law firm attract client leads through online marketing?
Did you know that roughly 43% of people use Google to research and find a lawyer?
Additionally, another 43% said they also used referrals during the research process.
Many law firms depend upon friendly referrals when it comes to acquiring new clients, particularly when it comes to probate, estate issues, and divorce cases.
Most people experience these legal issues or know somebody else who has. It's no longer taboo to discuss these issues, and because they're timely, people often ask friends or family for recommendations right away.
However, there are many instances in which a person may feel too embarrassed to reach out to their family or friends for referrals — such as sexual abuse, sexual harassment, DUI, drug charges, or again, divorce.
Others, such as people who have been injured in truck or motorcycle accidents, might not be familiar with any personal injury lawyers and will search Google for suggestions.
The best way to reach these people is through online marketing — particularly by setting up a legal website and filling it with great written content, such as legal blogs, videos, and free helpful information.
If you're able to properly set up your law firm's website and fill it with the right types of content, you'll have a shot of referring yourself to your new client — through a Google search.
Most legal marketing strategies revolve around having a law firm website, and then populating the website with essential keywords, or search terms. So when people Google "divorce lawyer near me" or "motorcycle lawyer" Google will know exactly what types of lawyers to show in the search results.
Once a prospective client has landed on your website, all you need to do is collect their contact info and see if you have a valid case.
Let's break down the online legal marketing strategy a bit more:
Meet Kaleidico
Schedule a discovery session with Kaleidico to tell us about your projects and goals. We'll offer our expertise and discuss collaboration.
A high-quality law firm website
You need to have a high-quality, updated legal website.
Remember, how I mentioned people use referrals and Google to pick a lawyer? Well, given the choice between two law firms — one with a nice website, and the other with an outdated website, who do you think the client will pick?
Plus, you need a website to generate leads. Lead generation strategies without websites aren't possible — unless you plan on buying all of your leads.
Also, most content marketing strategies would fail without a website — you need a website to post your blogs to and put your contact forms on.
Ultimately, all the content you're producing is meant to direct people to your website, where they will fill out the form.
Law firm SEO for increased visibility in Google searches
Search engine optimization (SEO) is a strategy for making your website more visible in a Google search.
The higher your website's Google ranking, the more traffic it will receive.
It's the aim of every legal SEO strategy to get your law firm's website on the first page of Google's search engine results page (SERP).
The difference between traffic generated from websites on the first page of Google, and the second page of Google are staggering — everybody wants to get on the first page!
SEO is an overall strategy that comprises many small tactics, that add up to make your website very visible:
Using the right keywords throughout your website
Blogging regularly, again, using the right keywords
Structuring your website according to Google's guidelines
Creating a sitemap
Adding a footer
Creating individual pages (landing pages) around each of your key practice areas
Legal content marketing blogs that get clicked on
Usually referred to as blogging, content marketing involves creating free, high-quality content that draws people to your law firm's website.
Blog writing is often the biggest driver of traffic to a website — people search for legal help online, find blog posts in the Google results, click on the website, and then fill out the contact forms to hire a lawyer.
Also, blog writing goes hand-in-hand with SEO. The more blogs a website has, the more visible it will be in a search result because there are more articles that can be discovered.
Not only that, publishing blogs regularly will increase a website's organic keywords — meaning when people search for a specific type of lawyer, Google will know to put that website in the search results because of all the mentions of the word "lawyer" on the website.
Because it takes time for new blogs to get indexed, or put into Google's search results, content marketing is thought of as a long-term strategy.
But remember this, once a piece of content has been published, it will last on the internet forever and continue to draw people to your website long after it's been written.
Legal PPC advertising to drive traffic to your website
The third part of the digital marketing trifecta is PPC or paid ads.
Combined with SEO and content marketing, PPC ads are another vehicle to get your website seen in a legal Google search.
Instead of writing blog posts to get discovered in a Google user's query, PPC ads are created to show every time a specific keyword is typed in a Google search.
However, because there are so many lawyers competing for these paid ads' keywords, lawyers must "outbid" each other to get their ads shown.
PPC ads aren't limited to plain-text Google search ads. They can also include:
Video ads
Banner, or image ads
Facebook Ads
LinkedIn Ads
Microsoft (Bing) Ads
If you want to drive traffic to your website within a couple of days and have the cash to do it, PPC ads are the ticket.
Just remember, ads stop showing when you stop paying for them, whereas content (blogs) lasts forever.
For these reasons, content marketing, SEO, and PPC are often used together.
How to choose the best law firm marketing agency
First, make sure the marketing agency you pick specializes in legal marketing.
Because legal marketing has extra rules and regulations, it's best to pick an agency that has experience creating law firm websites and working with lawyers.
Next, you'll want to size up the company to see if they're equipped to meet your goals.
When picking the best law firm marketing agency, ask these questions during your initial meeting:
How many legal clients have you worked with?
How comfortable are you dealing with legal marketing?
What experience do you have with SEO, content marketing, and PPC ads? 
Do you have any case studies we can look through?
What's the average number of leads you can help us bring in?
How many clients can we expect to convert from the new leads?
How long will it take before our website goes live?
Do you have writers on staff who can write our blog posts?
Do you have content strategists to pick the right topics and keywords to target?
List of the top 7 best law firm marketing agencies
Many agencies on this list are one-stop-shops that can handle every aspect of marketing your law firm. While others are one-trick ponies that excel in one specific field, usually law firm SEO.
If you're looking to improve your law firm's SEO, website, or content marketing strategy, consider these seven legal marketing agencies.
Kaleidico
Kaleidico is a Michigan-based, full-service digital marketing agency for law firms, mortgage lenders, and financial technology companies.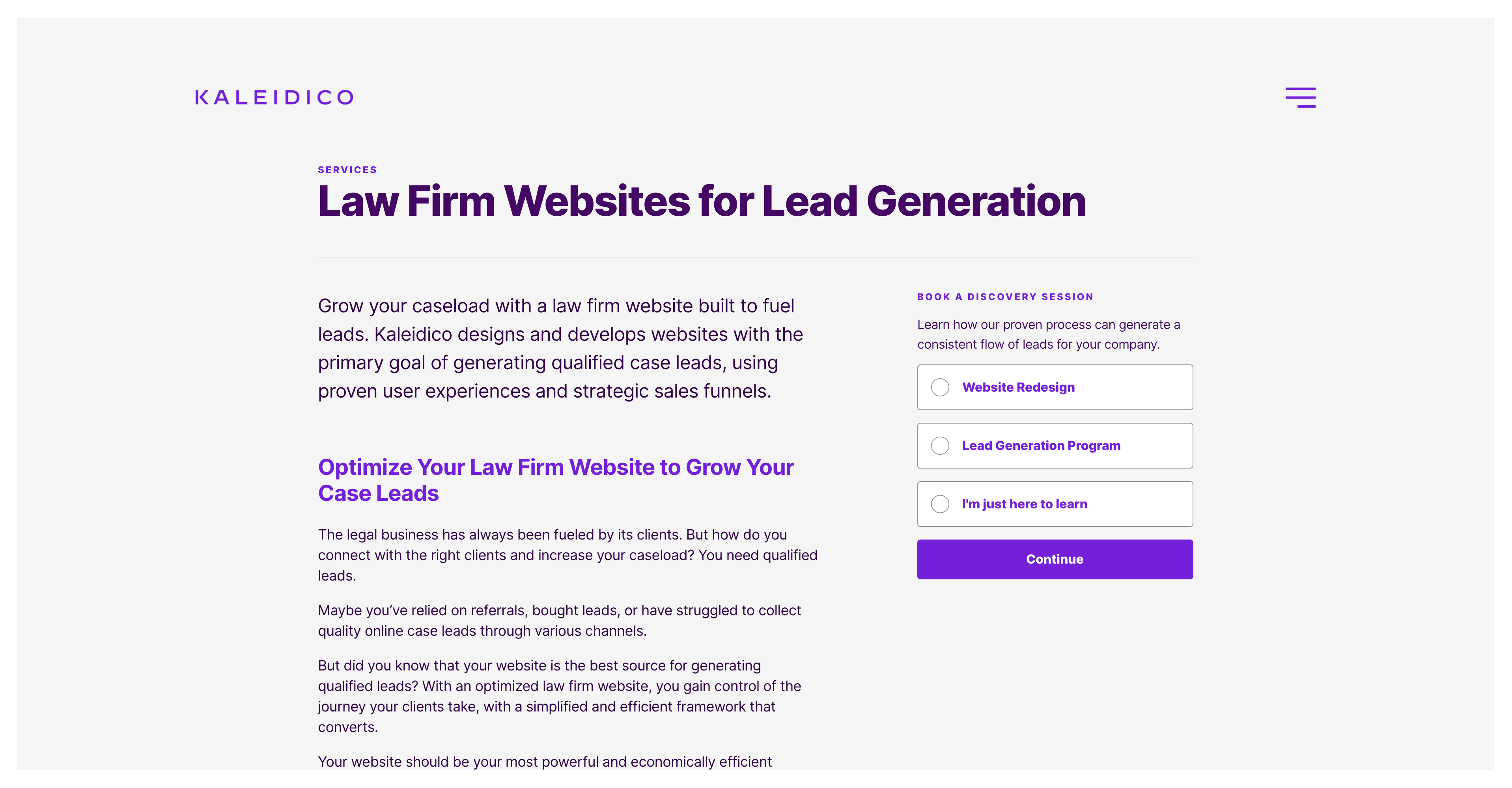 Our agency is equipped to handle every marketing task to generate new case leads for your law firm. That includes website design and development, branding, graphic design, SEO, PPC, social media management, email marketing, and content creation, including blog writing and creating eBooks.
We have created websites and run PPC campaigns for some of Metro Detroit's finest law firms. We'll partner with you to fuel your firm with high-quality leads.
Rankings
When it comes to SEO for personal injury lawyers, Rankings pretty much promises to get elite firms on the first page of Google results.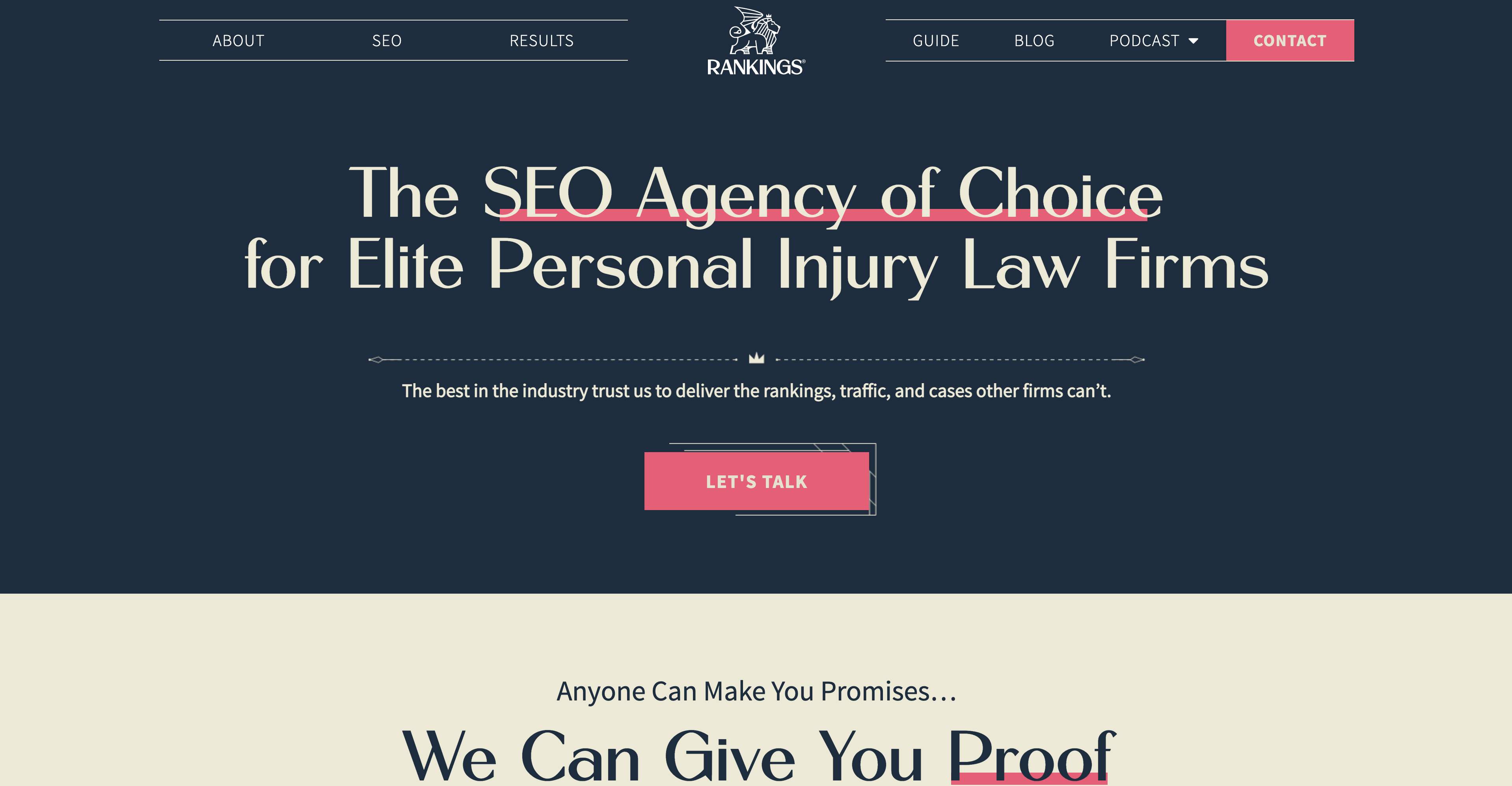 Unlike other agencies on this list, which offer many marketing services, Rankings pretty much offers one main service — SEO for law firm websites.
Rankings isn't meant for the small-to-mid marketing agency, and really focuses on what it calls "elite law firms."
As such, their minimum monthly engagement is $15,000. That may be too steep for most law firms just looking to get their toes wet in SEO.
Scorpion
Scorpion is as much a technology company as they are a full-service marketing agency for law firms.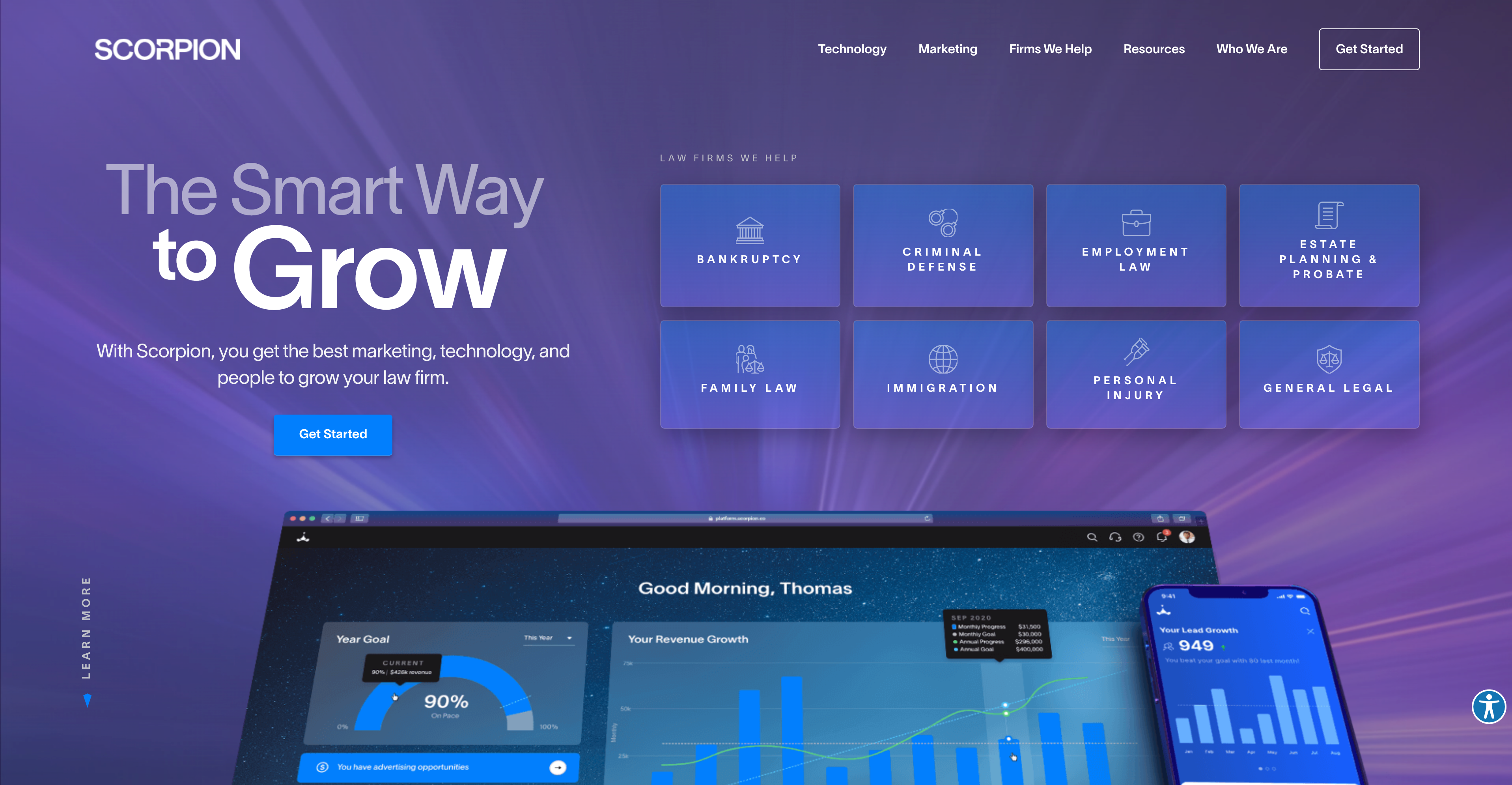 Scorpion's offers SEO, website designs, email marketing, social media, lead generation, and more for law firms.
When it comes to accessing these services, lawyers have two options. They can download the Scorpion Platform to do-it-yourself, or purchase Marketing Services to get experts to do it for you.
The Modern Firm
The Modern Firm is an Ann Arbor-based website builder for solo lawyers and small law firms.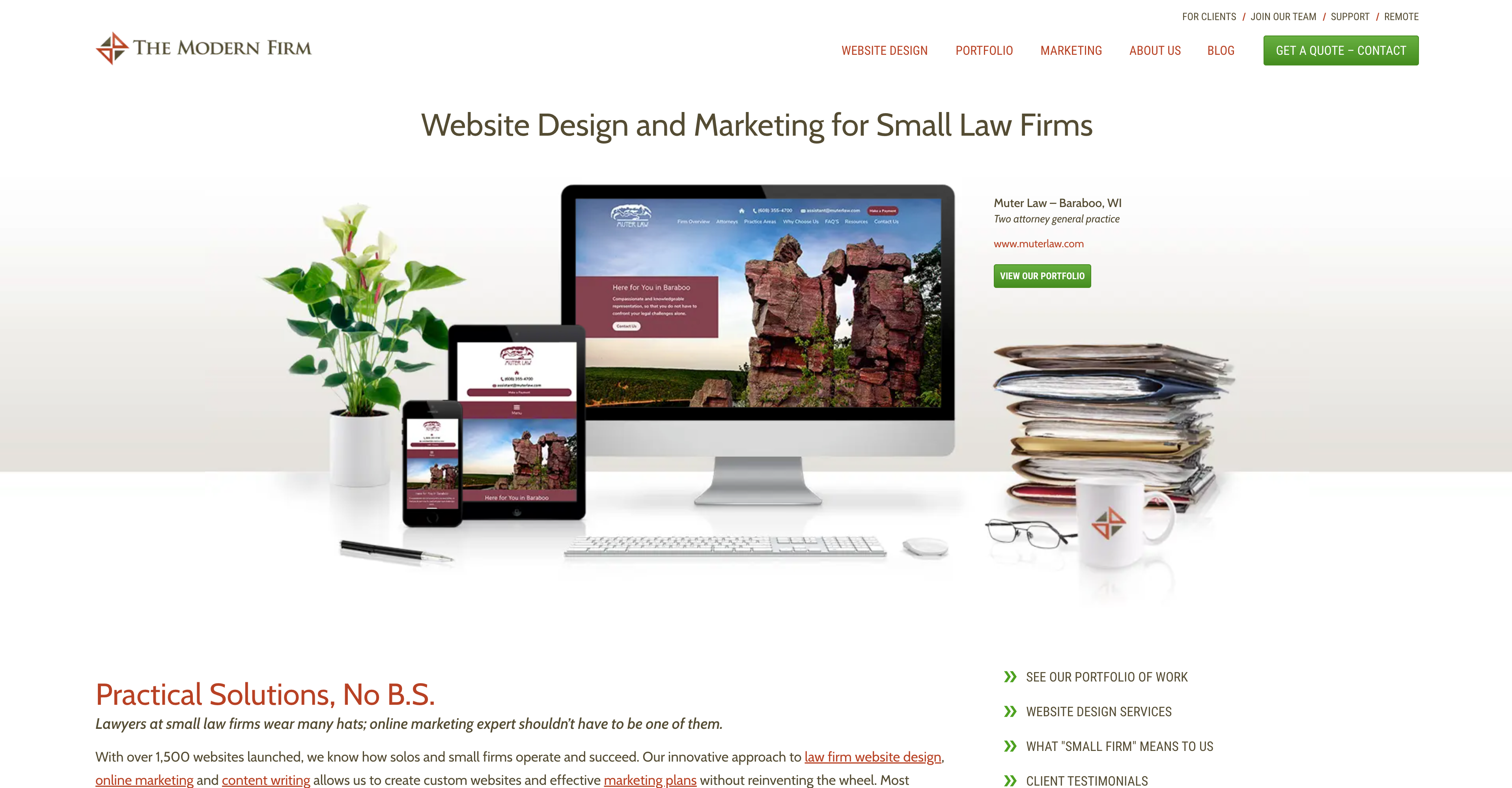 They excel at creating and designing websites, and have an extensive portfolio of legal websites.
In addition to website building, they offer SEO, PPC, consulting, and blogging services.
They also have a perfect 5-star Google Review rating. This shows they offer excellent customer support and service to their clients.
iLawyerMarketing
iLawyerMarketing is a law firm marketing agency based in California.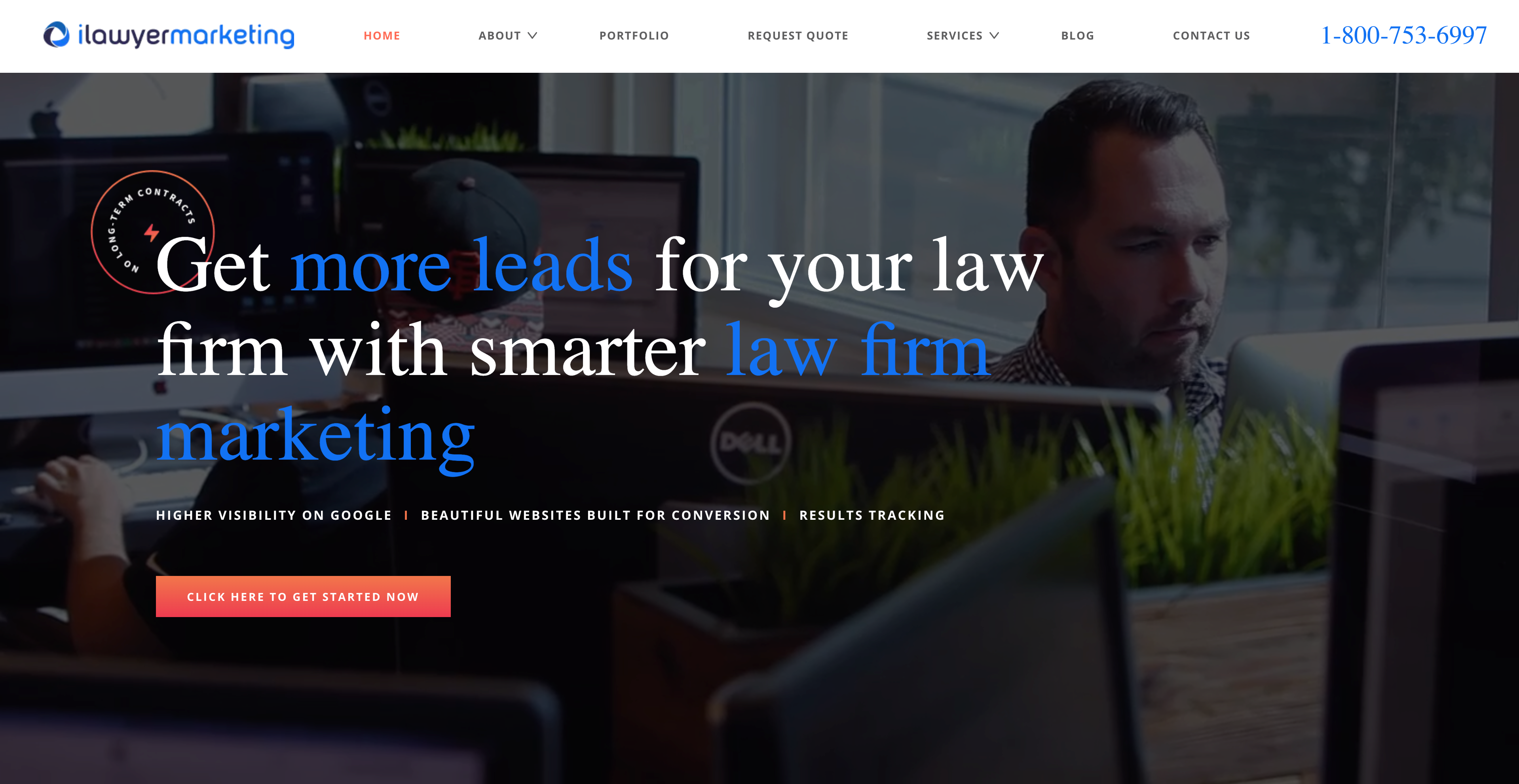 They specialize in SEO, website design, PPC, video production, blog writing, and legal content strategy.
iLawyerMarketing prides itself on its ability to get clients on the first page of Google's search results.
Unlike other agencies on this list, they can produce video content, in addition to blog writing and written content.
Gladiator Law Marketing
Gladiator Law Marketing (GLM) has over a decade's worth of online legal marketing experience.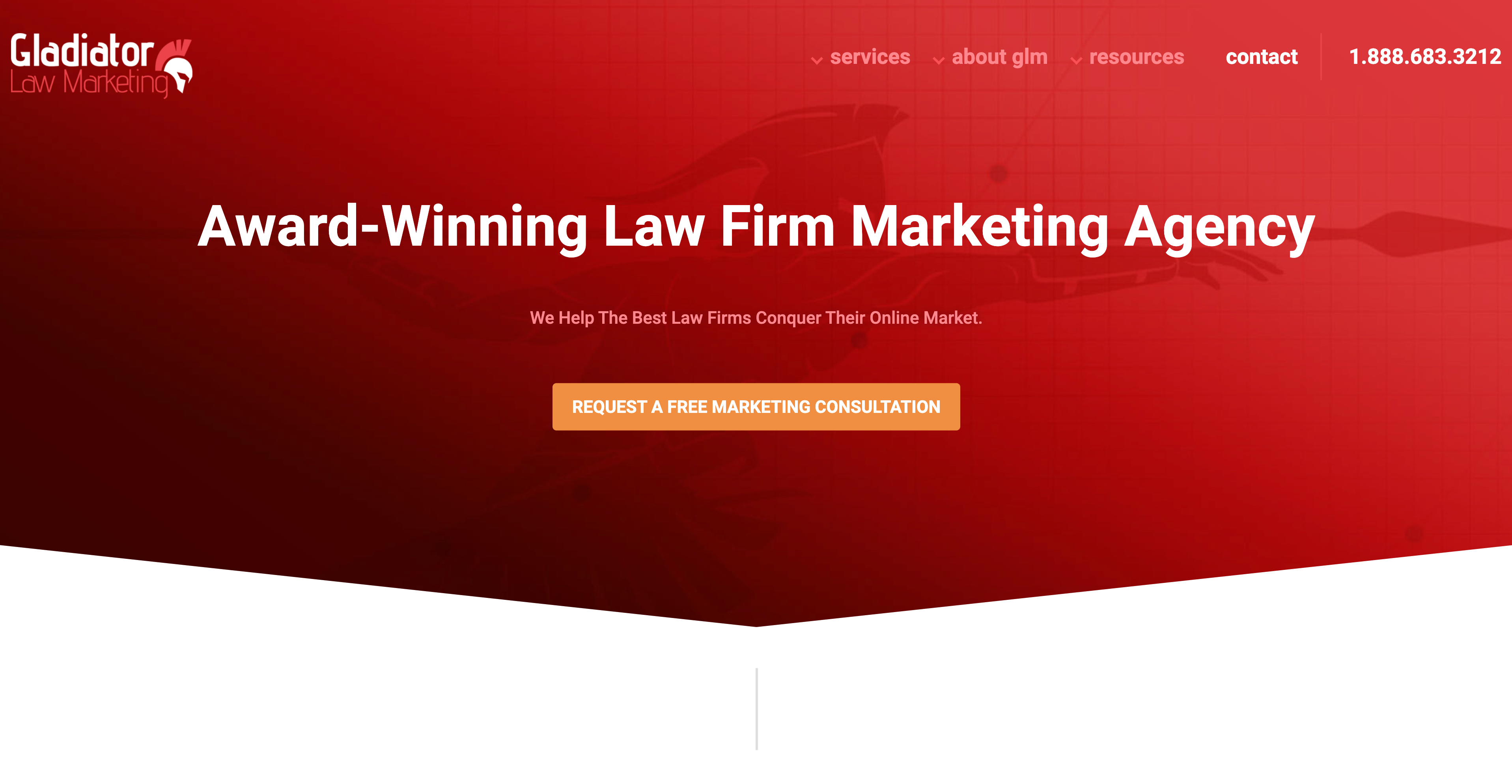 They specialize in web design, SEO, PPC, social media management, consulting, and auditing services.
GLM focuses on small to medium-sized law firms who, according to GLM's website, "feel themselves priced out of the market."
If you're a smaller law firm that wants a great website and customer service, GLM might be right for you.
NOMOS Marketing
NOMOS Marketing is a full-service digital marketing agency for law firms and the legal industry.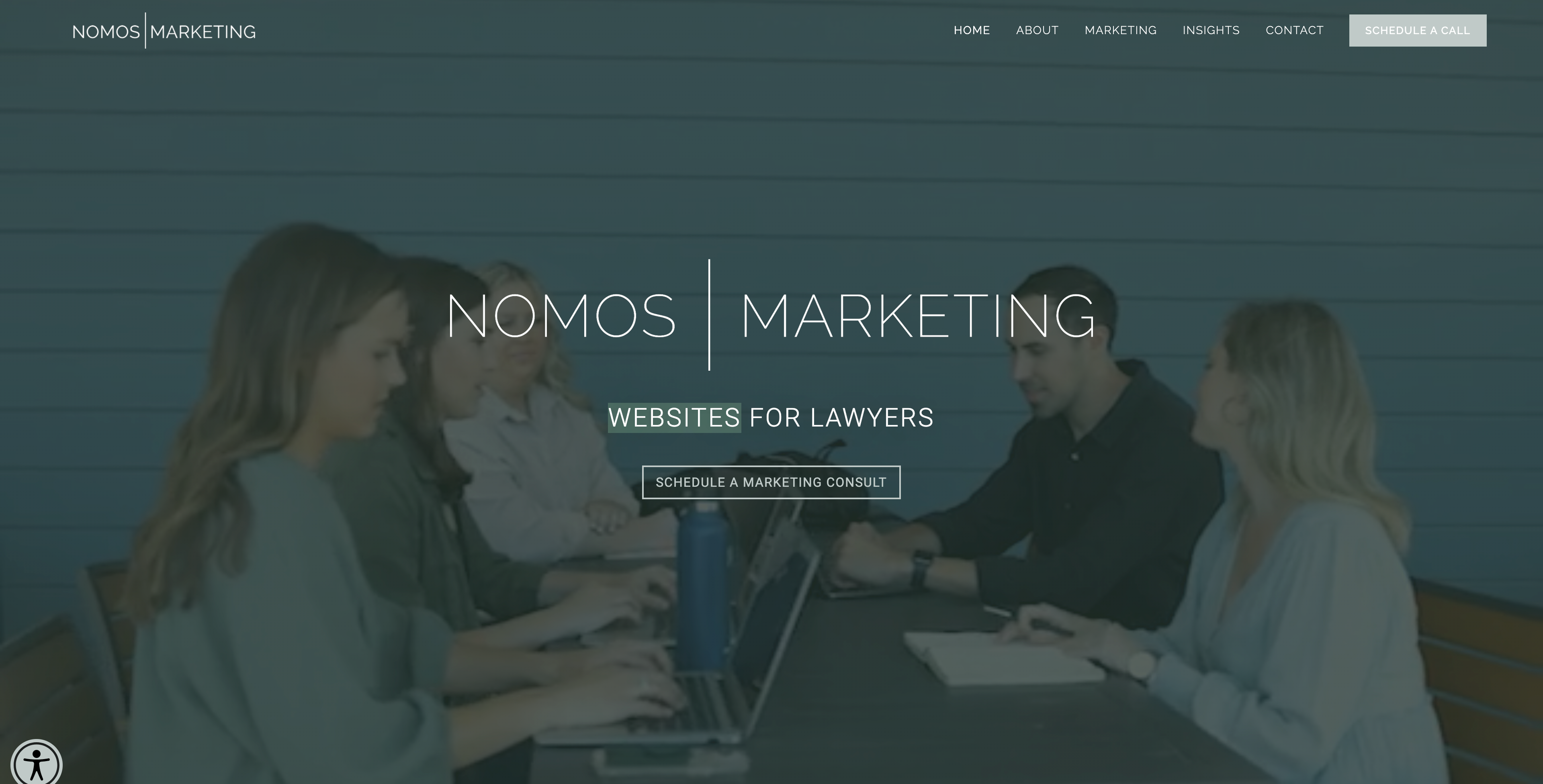 What sets them apart from others on this list is that they are 50% female-owned, with many female team members. 
NOMOS is a one-stop-shop for law firms. They offer websites, SEO, branding, design, PPC, photo and video, and social media management.
When it comes to websites, NOMOS created beautiful, elegant, and modern websites that will wow your web visitors.
Because of NOMOS' strong female presence, if your law firm focuses on women's issues, NOMOS Marketing might be the right agency for you.
Kaleidico — the best law firm marketing agency for lead generation
Kaleidico is your expert law firm marketing agency for generating monthly case leads that fuel your business.
We not only build websites for lawyers, but create custom content strategies, including SEO, keyword research, and content writing to make sure your website is regularly publishing high-quality blogs.
With your new website and blogs comes organic search traffic that can be leveraged to create qualified case leads.
We work law firms of all sizes, from small agencies to large law firms with multiple branches.
Book a discovery session with us and learn how we'll generate more leads for your law firm.
Free 90-day Legal Marketing Plan
We've perfected our proven framework for generating leads in 90 days. Check it out for free and contact us with questions!
Download now